Current Projects
Wildermyth
(Music)
Wildermyth is a character driven, randomly generated, tactical RPG made by Worldwalker Games.

Open Beta available on itch.io now!

You can keep up with development via the game's steam page or development blog, and socially on facebook, twitter, instagram, and tumblr.
Patreon
Patreon is a modern way for creators to secure patronage through crowdfunding.

On Patreon, I make at least one track per month that is released under creative commons attribution. People can use these tracks in games, youtube videos, films, anything.

I also share my music-making process through streams, articles, and other kinds of posts.

Support me on Patreon for as little as $1 per month
Past Projects
Circuitous Circuits
(Music, sfx, some artwork and level design)
Made for Train Jam 2019.

Make the longest possible path that meets up with itself - a circuitous circuit!

Play it on itch.io
Card Warriors
(Music)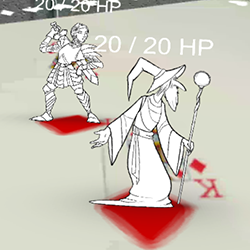 Made for AR Core Jam 2018, run by Google and IndieCade.

Place cards on the table, then watch as they battle each other in AR!


Zephyr
(Music)
Made for Train Jam 2018.

You've been left behind at one of the stops! Catch up to the train if you can.

Play it on itch.io
Dr. Hertz's Disease Destroyer
(Music and some sfx)
Made for the Global Game Jam 2018.

Your job is to kill the diseased cells while leaving enough healthy cells intact - and the only way to do it is by finding the right frequencies on your oscilloscope!

Play it on itch.io
Bloom
(Music and SFX)
A casual/relaxing HTML5 game by Nick Bilyk. Try to cover as much surface area as you can.

Play it online
The Expert
(Music and SFX)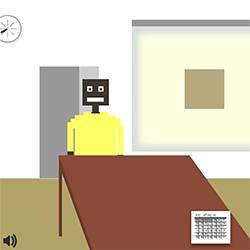 Make your clients happy. A game by Nick Bilyk.

Play it online
Pie Game
(Music)
A block-pushing puzzle game by Nick Bilyk. Eat pie!

Available on Android
Proximity
An EP of solo piano works. Compositions by Candy Emberley, performances by Ben Mason and Candy Emberley.

Available for download on Bandcamp
The Golden Carp
(Story and Music)
An opera in progress. Libretto by Laura Leffler.

The Golden Carp has had two public moments of presentation - three fully staged songs as a part of Savage Umbrella's Night of New Works in July 2012, and a story workshop produced by Savage Umbrella in April 2013.
Leaves
(Music, Lyrics, Creative Ensemble Member)
LEAVES is a collaborative musical by Savage Umbrella. It was first performed in September 2010 and was remounted in November 2013.

Additional music and lyrics by Ben Mattson and the original cast.
The Awakening
(Music and Lyrics)
A play with music, based on Kate Chopin's novel of the same name.

Adapted by Laura Leffler and the cast and co-produced by Savage Umbrella and 3AM Productions in April 2010.

Remounted by Savage Umbrella in 2017.
The Telephone Game
(Additional Music and Viola, Violin, and Cello Performance)
A film by Jason Schumacher

The Telephone Game is a comedy/drama set in the mid 20th century nostalgic realm about the chaos of trying to put a play together.

The film was shot in high definition black and white and without a script. All dialogue was improvised by the ensemble cast.